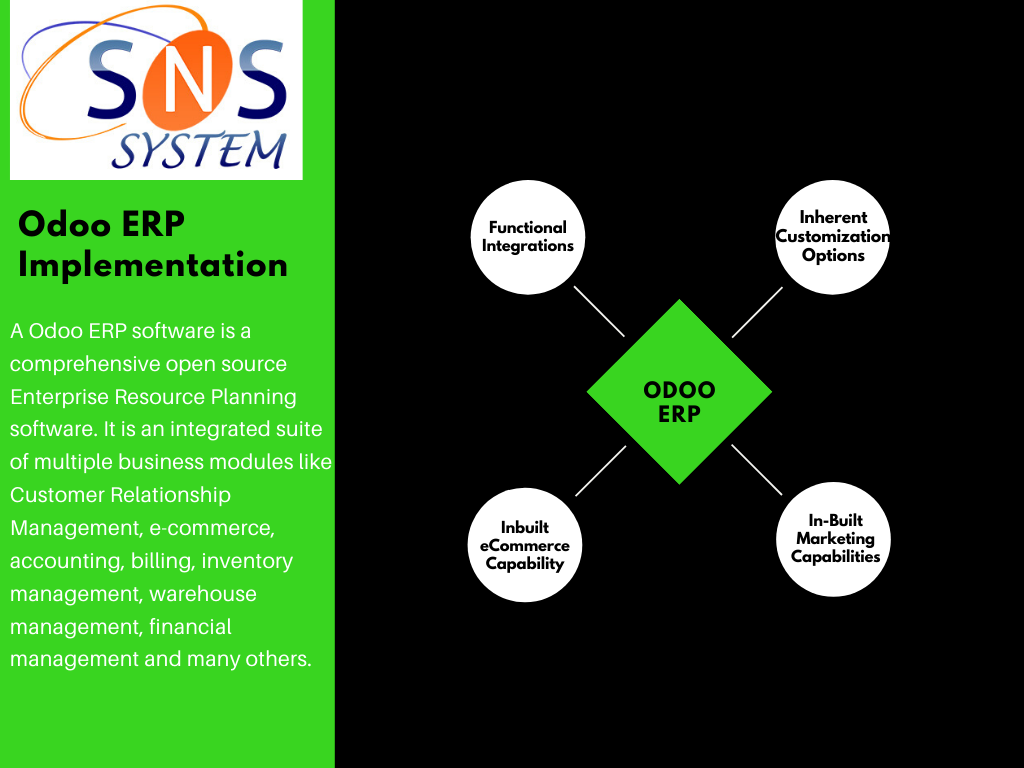 Odoo ERP software is a comprehensive open source Enterprise Resource Planning software. It is an integrated suite of multiple business modules like Customer Relationship Management, e-commerce, accounting, billing, inventory management, warehouse management, financial management and many others.
Why choose Odoo ERP implementation for your website?
The key features of Odoo ERP CRM are:
Functional Integrations
Odoo is a Customer Management System that helps streamline your business operations with standardized solutions. It is a suite that integrates various business systems like inventory management, accounting, supply chain management, etc.
Inherent Customization Options
Odoo helps redefine and streamline the workflows of a small business. It scales up with the business growth. It is a tailored ERP Solution.
Inbuilt eCommerce Capability
Odoo integration allows your website to create your online store. With Odoo all your sales information will be integrated with sales modules, revenue will be tracked in the accounting module and customer details can be managed easily with the Odoo CRM app.
In-Built Marketing Capabilities
With Odoo you can conduct surveys and use survey data in your customer interaction, do email marketing natively and provide customer care online through in-built live chat functionality. You can also create events, update event details on the website and promote your event through integrated emailing capabilities.
Why SNS System Private Limited for your Odoo implementation
 SNS System is a certified Odoo Partner and
SNS System team is working with multiple clients to migrate Odoo12 to Odoo13. The open source model of Odoo has allowed us to leverage thousands of developers and business experts to build hundreds of apps in just a few years. With strong technical foundations
 Our Implementation
We used his CRM module and customized that for Multilevel Marketing System and used his Website/e-commerce for purchasing the product and managing the users. We provided the all plan setup for that like Binary Plan and Unilevel plan etc. Please visit our website Odoo Implementation Services
We recently completed a project "Libu.life", It is an agent commission calculation implementation with Multilevel tree representation.
For more information about Odoo ERP Implementation Services, Odoo ERP Call: (+1) 214-494-0908 or Email : sandeep.gupta@snssystem.com
Related Posts
The pandemic has put businesses in never before seen predicaments. To manage this businesses, need partnerships that not only solve these problems but manage them efficiently. As a business owner, one needs to be able to pull up customer data, manage external and internal communication, you need a good Customer…

Zoho Services in Richardson, TX Zoho CRM Consultation in Richardson, TX Richardson, TX is a burgeoning business community that is strategically located in the Dallas Fort Worth Metropolitan area. The city of Richardson promotes innovation and diversification. Texas Blockchain Council has established its headquarters in the Richardson Innovation Quarter. So,…

Zoho Services in Allen, TX ​Zoho CRM Services in Allen, TX Allen, TX is a community where ideas grow, and success thrives. The city of Allen invites all corporations to be a part of a thriving business community. Allen, TX is a rich community of leading-edge companies in technology, real…

Zoho Services in Carrollton, TX Zoho CRM Services in Carrollton, TX Carrollton, TX was designated as a Crown Community for its dynamic efforts to develop the city as a model community in Suburban Dallas. This is the tagline of the City of Carrollton; TX. Located in Collin County Carrollton is…

Zoho Services in Arlington, TX Zoho CRM Services in Arlington, TX Arlington is a city in Texas is nestled in hardwood forest parks like River Legacy Park. The park has bike trails, River Legacy Living Science Center, with aquariums, terrariums, and interactive exhibits. AT&T Stadium in Arlington hosts the Dallas…