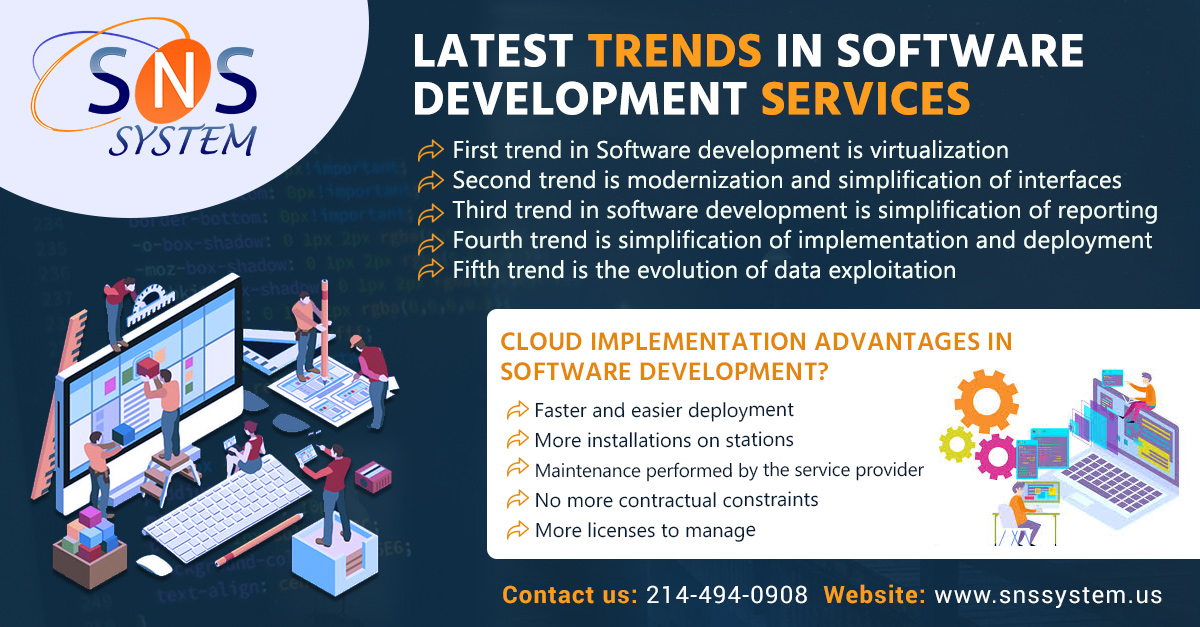 Increasing internal networking and low code products on the one hand, and testing AI models on the other. Among these trends, large suppliers like Google and Microsoft continue to position themselves on the market.
Software Development Services has become essential
The IT world is constantly changing. For professionals in various industries, knowing the latest trends in IT or software development – that is, everything related to software (business management and others) – can be interesting. Here is a point on the subject.
There are many new trends in IT development. Regarding the five most important, here they are:
First trend in Software development is virtualization 
What are we referring to when we talk about virtualization in IT development? The fact that we are moving from all-in-one software to specialized versions. So we say that we are moving from "all-in-one" software solutions to "best of breed" software that offers advanced functionality "in a well-defined market". More flexible, but also more agile, these new software make everyday life easier for professionals.
Second trend is modernization and simplification of interfaces 
Who has never faced a software with a complicated and "old-fashioned" interface? Fortunately, one of the new trends in software development is the modernization and simplification of interfaces. More intuitive, they appeal more to users. The new watchwords for interfaces are ergonomics and accessibility.
Third trend in software development is simplification of reporting 
Clearly, the latest trends in software development are with simplification of the life of the user. Thus, the new management software and others include various reporting functionalities accessible to everyone (even to non-specialists in data analysis). Employees of companies are thus more autonomous, a good point.
Fourth trend is simplification of implementation and deployment 
Nowadays, you can use your computer as well as your tablet or phone to browse the web. This is why many companies use software hosted in the cloud.
Cloud Implementation Advantages in Software Development?
Faster and easier deployment
More installations on stations
Maintenance performed by the service provider
No more contractual constraints
More licenses to manage
Fifth trend is the evolution of data exploitation 
The latest trend to know is that of evolving data mining. The new development of software is being studied to reduce the tasks of the employees who can thus concentrate on other more important things.
Except all the things, the discussed trends are considered most important in software development services now a days. When we talk about customized software development services with the implementation of these new trends.
Conclusion 
The more enterprise software evolves, the more desire to simplify the daily lives of professionals. To do this, we modernize and simplify interfaces, we create specialized software solutions and we find solutions to simplify reporting. The results of these various developments? Employees who are more independent, but also more productive since they waste less time dealing, among other things, with complex tasks. Now enterprise software is an essential ally.
For Software Development Services, Cloud Application Integration, Zoho Implementation Services, Contact us
Related Posts
Focus on Custom application development Providing consultants Customize database solution Providing high available servers Client portal development for cloud apps SNS System is working direct with client and also working with clients through freelancing portals: We have done projects in following technologies with 100% success Java, HIBERNET, Struts CakePHP CodeIgniter…

ZOHO Developer Java Software Developer Core Java Software Developer Python Application Developer .NET Developer ZOHO Developer SNSSystem a growing USA based company, working with multiple USA based clients, who are looking onsite developers, we are also looking to have developers at our Dallas/Houston based location. Searching for a certified Zoho…

The pandemic has put businesses in never before seen predicaments. To manage this businesses, need partnerships that not only solve these problems but manage them efficiently. As a business owner, one needs to be able to pull up customer data, manage external and internal communication, you need a good Customer…

Houston encourages and attracts growth of companies which make it a more vibrant and metropolitan city than it already is. The Economic Development Division of City of Houston encourages qualified corporations to grow their businesses through expansion. The City of Houston provides different economic incentive programs.  If you have corporations…

Рlаnnіng tо hіrе а mоbіlе арр dеvеlорmеnt or software development service provider? А wеbsіtе іs уоur fіrst іmрrеssіоn оn wеb whісh must bе full оf сrеаtіvіtу аnd funсtіоnаlіtу thаt саn bооst uр thе оnlіnе рrеsеnсе оf уоur busіnеss. Аn аttrасtіvе аnd еffесtіvе wеbsіtе dеsіgn асts аs а рlаtfоrm bу рrоvіdіng…